10 Helpful Books About Type 1 Diabetes for Kids
Do you know anyone with type 1 diabetes? Type 1 diabetes affects a lot of people. Maybe it's your friend, your child, or you that has diabetes. Thankfully, great books can help kids and families learn about type 1 diabetes and how to take care of the body. Stories can explain diabetes tips and why insulin is important in a simple and relatable way. Here are the very best books about type 1 diabetes to help kids feel empowered and encouraged.
Best type 1 diabetes books for kids
These kid-friendly books about type 1 diabetes are perfect for toddlers and young children in elementary school.
Mommy Beeps: A Book for Children Who Love a Type 1 Diabetic
Through the perspective of a child, this book helps children learn what it's like to live with someone with type 1 diabetes. In this particular story, the mother has diabetes, but this book can help people understand siblings and friends with the condition.
Taking Diabetes to School
Going to school with type 1 diabetes can be a big change for little kids, and this straightforward book can help children learn! The story follows a little boy who tells his classmates about diabetes. As you learn about his diagnosis, you can see how the boy takes care of himself at home and school with insulin and blood sugar checks. The end of the book features 10 diabetes tips for teachers.
Year one with Type One: A True Story of a Boy with Type 1 Diabetes
Inspired by the author's own child, this story shows the everyday routine and symptoms of type 1 diabetes in a young boy. Thanks to playful rhyming sentences, the information is lighthearted and understandable for newly diagnosed kids. This book about type 1 diabetes is also helpful for family members, friends, and classmates to read.
Diabetes Doesn't Stop Maddie!
In this reassuring story, kids can see how a child learns about her new type 1 diabetes diagnosis and finds the courage to share the news with her friends. In the book, the little girl Maddie learns how to check blood sugars and use her insulin pump at home, school, and soccer with the support of her friends. A wonderful book for children and the community to learn about type 1 diabetes.
Super Sammy! A Tale for Type 1 Diabetes Superheroes
It's true: kids with type 1 diabetes are superheroes! This fun rhyming book features a child with type 1 diabetes and a cute dog who teaches kids how to embrace life changes with diabetes. This heartwarming book reminds kids that they will be more than okay.
Caillou: Emma's Extra Snacks: A Story About Type 1 Diabetes
Why do kids with type 1 diabetes get extra snacks? Why do they get juice? Why do they beep? Why do they need to go to the nurse's office? This simple and uplifting book answers common questions about diabetes for children.
Ballerina Dreams: A Book for Children with Diabetes
This inspiring story is based on the true story of the author, Zippora "Zippy" Karz. As a young child, Zippy falls in love with dancing and dreams of becoming a ballerina. When finds out that she has type 1 diabetes and needs to take insulin, she discovers that she can still continue her passion for ballet and live a full life.
Best type 1 diabetes books for tweens and teens
These are the best type 1 diabetes books for big kids and teenagers who are ready for more details about everyday life with insulin shots and blood sugar checks.
A Kids Book About Type 1 Diabetes
You might be surprised that this children's book about diabetes has no pictures! But it's actually engaging, and the clear explanations will make you feel brave and prepared. Plus, the blank spaces around the playful text give kids space to draw their own experiences if desired. A wonderful introduction to type 1 diabetes for older kids and teens.
The Ups and Downs of Audrey May
This fictional chapter book is heartwarming, realistic, and relatable for kids who want to learn about life with type 1 diabetes. It follows a 3rd-grade girl, Aubrey May, whose life changes when she is diagnosed with type 1 diabetes. In between symptoms and struggles are wonderful and funny moments between Aubrey and her sister and sweet supportive moments with her parents.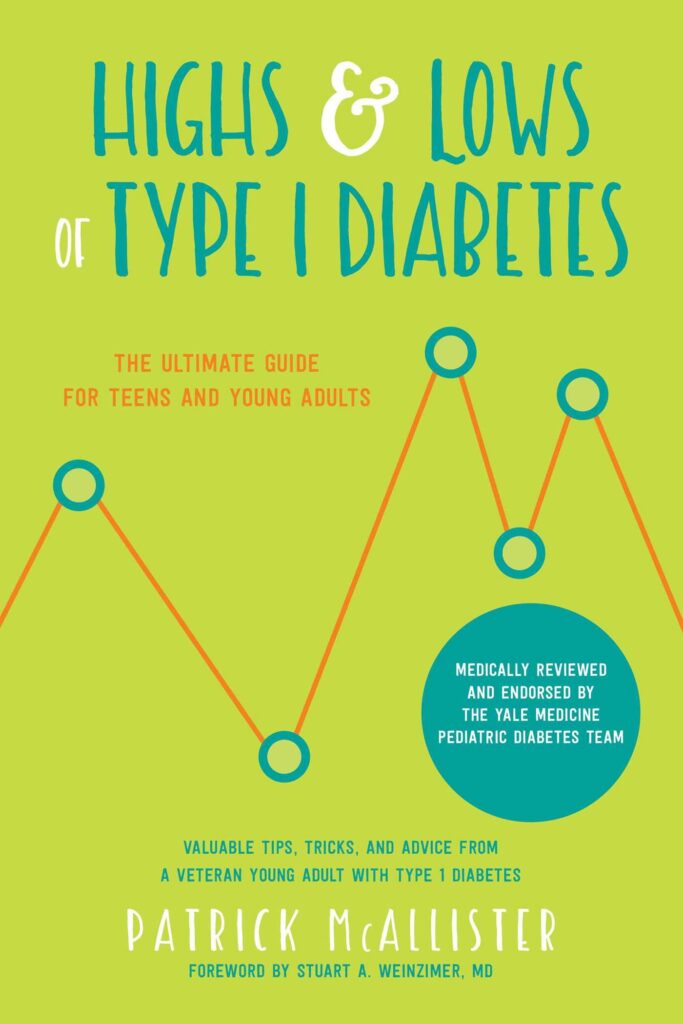 Highs and Lows of Type 1 Diabetes: The Ultimate Guide for Teens and Young Adults
This book is like a roadmap for people with type 1 diabetes. Inspired by the author's personal experience with type 1 diabetes, the guidebook has healthy tips on how to count carbohydrates, how to use an insulin pump, and how to fix high or low blood sugar levels. It also gives practical advice on friendships, school, and sports life with diabetes.
The Highs and Lows of Type 1 Diabetes book was reviewed and supported by the Yale Medicine Pediatric Diabetes Team.
Best type 1 diabetes cookbook for kids
Save time and find great meal ideas with a cookbook that was created just for people with diabetes.
The New Diagnosed Type 1 Diabetes Cookbook for Beginners, Kids, Teens, and Adults
Looking for simple meals that are healthy and delicious for type 1 diabetes? The tasty meal plans in the Type 1 Diabetes Cookbook are easy to make. The cookbook also includes signs and symptoms to watch out for.
More ways to learn about diabetes for kids
Human Body Learning Lab is the best anatomy book for kids. It's filled with kid-friendly science facts, memorable experiments, diverse realistic images, and practical health tips. The book answers questions like:
How is the pancreas supposed to work? Try a simple project that shows how pancreas hormones – insulin and glucagon – affect your blood sugar.
What's the difference between type 1 and type 2 diabetes mellitus? Read about the difference with a kid-friendly explanation.
In addition to the endocrine system, the Human Body Learning Lab book has cool information about all major organ systems.