10 Best Books About Food Allergies for Kids and Parents
Although food allergies are common, living with the diagnosis can often feel confusing and lonely for children. For starters, food allergies are invisible most of the time. Kids usually look healthy when they avoid the food they're allergic to, so people might not realize how serious food allergies can be. That's why the best books about food allergies can help children feel understood and protected.
Disclosure: This article may contain affiliate links. If you click an affiliate link and make a purchase, Human Body Learning earns a small commission which supports this website at no additional cost to you.
It's always a good idea to have at least a few books about food allergies on hand, both at home and at school. These books can offer relatable stories and practical advice for managing food allergies. They can teach children empathy and safety when it comes to food allergies.
There are also great books about food allergies for parents, too! Check out the 10 best allergy books for families and caregivers below.
Best picture books about food allergies for kids
These books are geared for children ages 2 to 8 years old.
Realistic stories about children with food allergies
When children hear about other boys and girls with food allergies, they may feel comforted knowing that they are not alone. These realistic picture books have examples of different types of allergies, common reactions, and social experiences.
Food Allergies and Me
A boy named Jack has a busy day where he goes to school, an allergy appointment, and then spends time with friends at the playground. Throughout the day, Jack is very active, but he has to be careful about his allergies. He can't share food and needs to ask his parents if something is safe.
This book mentions several food allergies, including milk and egg, and different types of allergy symptoms. It also teaches the important of washing your hands before you eat, as well as after to wash any food off the hands.
However, it's clear that this child has many interests and hobbies, just like other children! Food allergies are just one important part of his life.
My Perfect Cupcake
Dylan always loved picking out different cupcakes from the local bakery. One day, he suddenly developed a serious allergic reaction with hives, throat itching, and stomach cramps. The parent takes Dylan to the doctor who performs a skin test and diagnosis him with nut allergies. Dylan is sad that the bakery is not safe for him.
Although Dylan had developed anaphylaxis in the story, emergency epinephrine treatment was not given for his symptoms. Later in the story, the doctor mentions that Dylan should keep "emergency medicines" with him at all times. But the story mainly focuses on how allergies can change someone's life in an instant. It encourages readers to think about how food is prepared and to think about making safe recipes for people with food allergies.
Anthropomorphic stories about animals with food allergies
Often, make-believe tales can be a gentle way to describe a tricky topics like food allergies. Analogies in these imaginary scenarios can help kids understand certain concepts.
The BugaBees: Friends with Food Allergies
This light-hearted book features various types of insects. Each insect has a food allergy that causes different reactions. They talk about foods they need to avoid and take the time to learn about each other's experiences. The top 8 food allergies – peanuts, tree nuts, fish, shellfish, milk, soy, eggs, and wheat – are all featured in this book.
This book is the companion to The BugyPops: Friends for All Time which discusses how children without food allergies can support friends with food allergies.
Bentley Goes to School- A Simple Story About Staying Safe with Food Allergies
Bentley is an adorable dog who goes to school for the first time. He begins to worry about being away from his parents and wonders how to keep himself safe due to his food allergies. However, Bentley knows how to keep himself safe, and his teachers know about his epinephrine pen, too. After a fun day filled with activities like snack time, arts and crafts, and recess. At the end of the day, he's excited to come back tomorrow.
Zippy: A Story About Oral Immunotherapy (OIT) for Food Allergies
Zippy is a little red car who wants to drive fast like his big sister, Speedy. The problem is that he's allergic to gasoline. When he adds gas to his car, he has an "allergic reaction" with smoke coming out. With frequent trips to the car shop, he gets exposed to little amounts of gasoline until he can tolerate it without any reaction. After a long time of patience and perseverance, he is able to fill up his tank with gasoline! He is not allergic to it anymore!
In the back of the book, author Sakina Bajowala, MD, a pediatric immunologist, delves into more detail about the oral immunotherapy (OIT). She uses the car analogy while sharing tips for discussing allergy treatment with children.
Stories for children to support friends
Kids with food allergies thrive with the care and concern of friends, family and teachers. These books about food allergies are important for building empathy and understanding.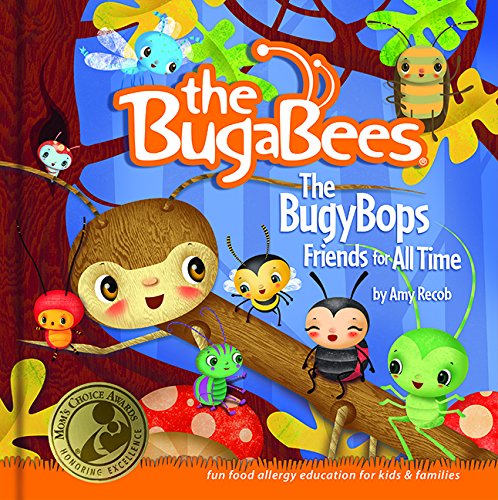 The BugyPops: Friends for All Time
As the sequel to The BugaBees: Friends with Food Allergies, this is a heart-warming tale about all types of insects who go to school together. Many children have food allergies, but many others don't have any allergies. Everyone learns that washing hands and reading labels are simple ways to prevent allergic reactions. They also learn to be careful about cross-contamination, common symptoms, and epinephrine treatment. However, the most important lesson is about kindness and compassion for all friends.
The Princess and the Peanut Allergy
Regina is excited to tell her best friend, Paula, about her princess-themed birthday party. When Regina describes the desserts she has planned, Paula becomes very worried. Despite Paula explanation that even a tiny amount of peanut can make her sick and go to the hospital, Regina insists that Paula could simply pick out the peanuts from the dessert.
After Regina yells at Paula for being a "pain" and blames her for "ruining" her party plans, Paula tells her friend she can't come. At home, Pauls tearfully tells her dad she wishes she could keep her allergy secret. Meanwhile, Regina's mom uses the "Princess and the Pea" story as an analogy to allergies, and Regina beings to understand. She plans to have a cake made without peanuts, and the girls become friends again.
Due to the name-calling and unfair blaming in the story, parental discretion is advised. Consider whether the conflict in the book could trigger hurtful or shameful feelings. If the book is read, caregivers and teachers should emphasize that allergies are never a child's fault.
Best book about food allergies for tweens and teens
Older children and teens are in a phase where friendships and fitting in are priorities. As such, learning about food allergies from other kids can be encouraging and helpful.
Kid's Guide to Life with Food Allergies
In this guidebook, 12-year-old Kai Brown shares his firsthand experience with living with nut allergies. He candidly divulges the challenges about feeling left out and extra careful around friends. When reflecting on his experiences with anaphylaxis, epinephrine injection, and hospital visits, he humbly shares mistakes that he and his parents made in hopes of helping others learn and prevent the same outcome. While this book is not intended to be a medical guide, it can provide comfort for older children and teens as well as siblings who feel alone in the food allergy journey.
Best books about food allergies for parents
These detailed books about food allergies are geared for parents as well as healthcare professionals.
Food Without Fear
Allergist Dr. Ruchi Gupta has devoted her life to researching, diagnosing, and treating food allergies. As a mother to a child with serious food allergies, she understands the many concerns and questions that other families have. Inspired by these experiences, she has created this in-depth guide to food allergies. In addition, she dives into the differences between immune system reactions and other food intolerances and sensitivities. Each detail is supported by scientific research and real patient stories.
Food Allergy Fix
For decades, avoiding allergic foods was the only option. In recent years, desensitization to these foods has been a game changer for many families. Allergist Dr. Sakina Bajowala reviews the science behind desensitization, including oral immunotherapy (OIT). She explains how treatment works and why it might give freedom from food allergies. Dr. Bajowala also compares the pros and cons of treatment and gives advice on who might benefit most from this option.
Best books about the human body for kids