8 Great Kids Books About Pregnancy and Where Babies Come From
Expecting a new baby is an exciting time for families, but it can also be a mysterious and overwhelming experience for kids. That's why children's books about pregnancy can help. Using books as a guide, parents can explain where babies come from in a way that children can easily understand.
Thankfully, there are plenty of great children's books that cover the topic of pregnancy for different age groups and levels of understanding. Some children's books touch on the science of birth while others delve into more details about reproduction. Here are the best children's books about pregnancy to explore with your family.
Best books about pregnancy for toddlers
If you have a curious toddler, it's great to have board books about pregnancy that are short and to the point. With easy-to-understand language and simple illustrations, these books are perfect for little ones who want to learn how babies are born!
Welcome, Baby! A Gentle Conversation About Where Babies Come From for the Very Young Child
This adorable book is a sweet and simple introduction to pregnancy and birth. Like many animals, human babies come from an egg, too! Colorful photographs of people and animals are sure to capture a toddler's attention, and short sentences give just the right amount of information for young children.
Where Do Babies Come From? Lift-the-Flap Book for Kids
For toddlers who love to ask questions, this interactive book has answers! Each flap features a common question about pregnancy. Flip open each flap to find out what's growing inside the belly and other interesting tidbits about babies and birth.
This children's book about pregnancy also features comparisons to cute animals such as kittens, caterpillars, and kangeroos.
Waiting for Baby
Looking for the best pregnancy book for older brothers and sisters? This adorable book is perfect for toddlers and young children. From doctor's appointments to clothes shopping and resting on the couch, the pages are like a collection of snapshots of daily life with a baby on the way. Thanks to this timeless book, children can get ready for a new baby sibling.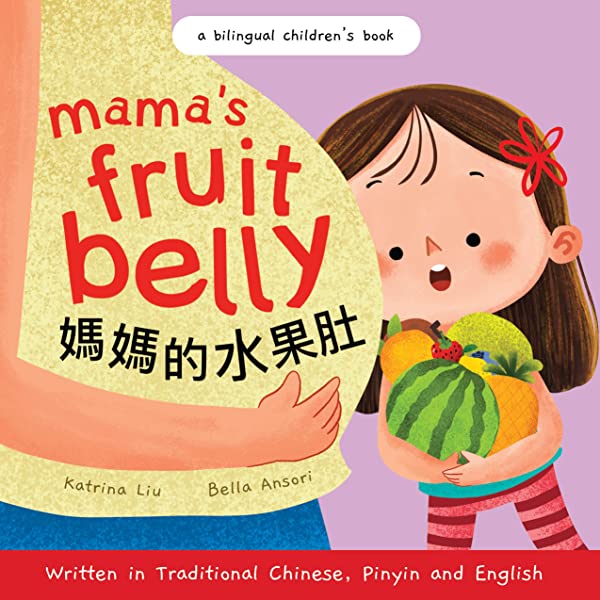 Mama's Fruit Belly: Bilingual Children's Book About Pregnancy
This bilingual picture book is a fun look at a growing pregnant belly! How big is the baby? Is it as small as a blueberry or as big as a watermelon? Children can get a sense of what's happening inside the uterus by comparing the baby's size to various fruits.
Traditional Chinese, Pinyin, and English edition:
Simplified Chinese, Pinyin, and English edition:
Best books about pregnancy for kids
For curious children who are ready for more details, these books have helpful explanations with illustrations that represent a diverse range of families and experiences.
Nine Months: Before a Baby is Born
This is beautiful rhyming story is a wonderful way for children of all ages to learn about the stages of pregnancy.
The true-to-life illustrations show how a fetus gradually grows in the uterus alongside a family going about daily tasks and preparing their home for a new baby as the seasons change.
It's NOT the Stork! A Book About Girls, Boys, Babies, Bodies, Families, and Friends
Kids ask a lot of questions like "Where do babies come from?" and "Why do people look different?" Luckily, there's a great book called It's NOT the Stork that can help children understand these tricky topics with fun pictures and scientifically-accurate explanations.
It's So Amazing! A Book about Eggs, Sperm, Birth, Babies, and Families
As a follow-up to It's NOT the Stork, this book gives more information about conception, pregnancy, and reproduction with kid-friendly explanations. The light-hearted illustrations help make the topic more relatable for children of various ages.
Human Body Learning Lab: Take an Inside Tour of How Your Anatomy Works
If you're looking for a comprehensive anatomy book that can grow with your child, Human Body Learning Lab is the best! This fun science book includes all organ systems, including the important reproductive system.
With colorful diagrams and empowering language, kids can learn about how the body changes through puberty and pregnancy. The book also features engaging hands-on activities like making a play dough embryo.
More fun human body books for kids